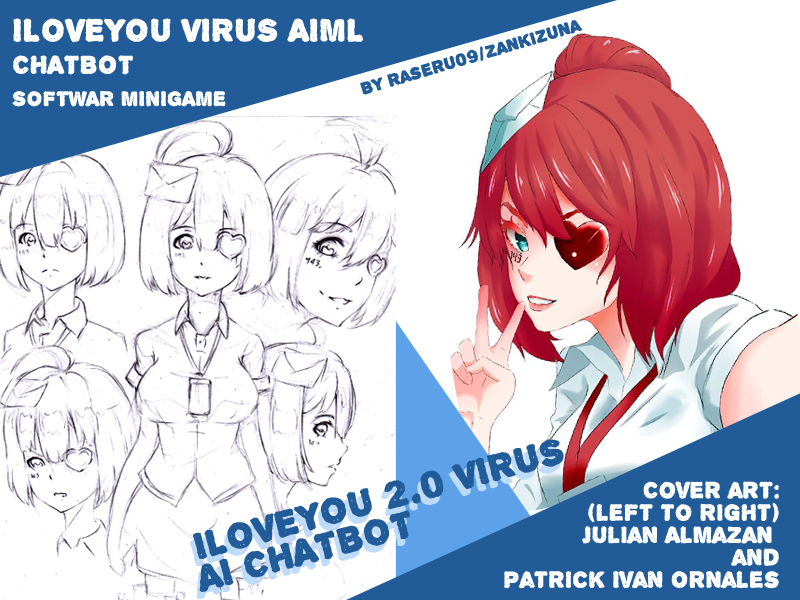 ILY.EXE
Chat with ILOVEYOU VIRUS, the legendary program that took over the internet by storm thru mail in the year 2000, in this Interactive AI Visual Novel!

2018 marks the 18th year since the original ILOVEYOU Virus was released! To commemorate the huge disaster she was, let's appreciate how love must be spread around, like a Virus!

ILY is run by AIML (Artificial Intelligence Markup Language) that has responses for thousands of words and word combinations.
ILY can remember a few things, and every input you type is recorded. All your inputs will help train her brain to speak as you do!
*This is a minigame for an upcoming full-scale VN RPG called Softwar*
http://zankizuna.itch.io/softwar
Download
Click download now to get access to the following files:
Comments
Log in with itch.io to leave a comment.
Cool! I hope you have fun!!
I was playing around with this, cute mini-game. She can be frustrating sometimes with always asking your favorite color, but I find it neat how she remembers things, even when you sign back into the game. I have her at Level 5 right now.
whahahaha That's embarassing! whahaha yeah she remembers stuff!
I've never seen another player raise her level uguu Thanks so much!
No problem! Haha I was amazed with one of her responses to me which was based on stuff I typed to her, so it's quite entertaining! Curious to see how much she continues to remember.
It's the best name to have!